Sonite® Wax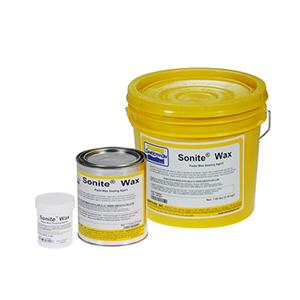 Sonite® Wax is a soft paste wax suitable for sealing porous surfaces prior to applying Smooth-On mold rubber. Sonite® Wax will aid in releasing mold rubber from a variety of model surfaces and can be used for other industrial applications. Application of a mold release agent may be necessary after Sonite® Wax has dried. Consult technical bulletin of mold rubber product for complete details.

Features

Less Solvent – Higher % Solids
Low Odor
Easy To Apply
Fast Drying
Instructions

Safety - CONTENTS FLAMMABLE: Keep product away from flame and all ignition sources. Use in a properly ventilated area ("room size" ventilation). Wear safety glasses, long sleeves and rubber gloves to minimize contamination risk.

Store and use material at room temperature (73°F/23°C). This product has a limited shelf life and should be used as soon as possible.

APPLYING...

For surfaces with smooth contours, Sonite® Wax can be applied by wiping on with a soft, lint-free cloth. Any excess should be removed. For porous surfaces, apply wax and let dry. Repeat and let dry. After applying final coat, let dry 20-30 minutes before buffing with a clean soft cloth or brush to produce a glossy surface (optional). If applying urethane mold rubber (VytaFlex®, ReoFlex® or Brush-On® 40), follow application of Sonite® Wax with a thorough coating of Universal® Mold Release or Ease Release® 200 (available from Smooth-On).

Because no two applications are quite the same, a small test application to determine suitability for your project is recommended if performance of this material is in question.