Additives & Reinforcements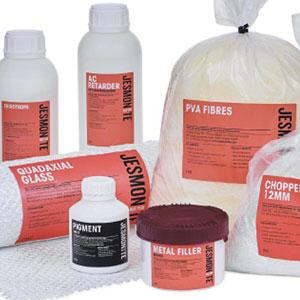 RETARDER
Set times of all Jesmonite composite materials can be extended by the addition of Retarder to increase working time. There is a Retarder for AC100 and a separate Retarder for the cement based materials AC730.
Please note that the end user should perform tests in the workshop environment, as extremes of temperature and humidity can effect set times. Addition rates can be found in the individual composite user guides.

THIXOTROPE
Thixotrope is added so that the viscosity of Jesmonite can be adjusted to the users preference. This is particularly useful when applying a Gel Coat into a mould. By adding Thixotrope it is possible to apply a controlled 1mm – 3mm layer of material without it running off the mould surface. This also prevents glass reinforcements from showing at the face of laminated objects. Thixotrope can also be used to make the material into a paste, which can be used as a repair filler, and jointing paste for bonding two laminates together.

QUADAXIAL GLASS
This type of glass reinforcement is tailor made for use with Jesmonite. It is based on the latest multiaxial glass reinforcement technology, which makes Jesmonite fibreglass laminates light, strong and fire resistant. It is constructed like a lace, with continuous glass strands in four axis (multiaxial) stitched together using the fireproof material Nomex®.

CHOPPED STRANDS
These can be added to all Jesmonite composites to give increased strength in thin section castings, and also to act as a filler to assist in laminating.

PVA FIBRES
PVA fibres are the new alternative to glass reinforcements for cement systems.